November 01, 2006
MP Report – November 2006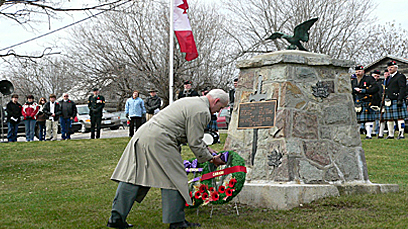 Photo courtesy of John Souter



Veterans' Week
This year, Canada marks Veterans' Week from November 5 to 11. Veterans' Week is a time to honour and remember all those who have served Canada in times of war, military conflict and peace. It is also a time to teach our youth the significance of remembrance week.

The theme for Veterans' Week 2006 is Share the Story, highlighting, among many stories, the 50th Anniversary of the First United Nations Peacekeeping Force. Canada's pivotal role in the establishment of UN peacekeeping forces as tools to diffuse conflicts is well-known and won a Nobel Peace Price for the Canadian UN delegate who proposed it in 1956 – Foreign Minister (and Future Prime Minister) Lester B. Pearson.

To develop a deeper understanding of the sacrifices and achievements of those who served Canada it is important that we share personal stories of remembrance. If we Share the Story we become a part of a legacy of remembrance – a chain of events that will link our past with our future, and preserve the memories of our military heroes.

As your Member of Parliament for Carleton-Mississippi Mills I will be attending commemorative Remembrance Day Ceremonies throughout the riding. On November 11th pause for a moment of silence to remember those men and women who have served and are serving our country.

Clean Air Act
Healthy communities require a healthy environment that's why Canada's New Government has announced a practical plan to build a cleaner, greener Canada.

Air quality has worsened under the previous government, and as a result, there has been an increase in the incidences of diseases and deaths attributed to air pollution. Canada's New Government will tackle this problem head-on and deliver real, measurable solutions to improve air quality and address climate change. The Minister of Environment Rona Ambrose in mid-October introduced the Clean Air Act which will reduce greenhouse gas and pollution in Canada. Ours is a new approach for better results. It will:

Move industry away from voluntary compliance to strict enforcement;
Replace the current ad hoc, patchwork system with clear, consistent, and comprehensive national standards; and
Institute a holistic approach that doesn't treat the related issues of pollutants and greenhouse gas emissions in isolation.

Previously, voluntary targets were set according to what industry felt they could live with. From now on, targets will be regulated according to what Canadians ought to breathe in. Our attitude will be strict but fair. We will collaborate with industry in setting sensible targets and realistic timelines.

By establishing comprehensive standards, backed by regulated targets and measurable outcomes, we will improve air quality so that fewer Canadians suffer from the effects of air pollution, and demonstrate that Canada's New Government is serious about the environment. For more information on The Clean Air Act visit: www.ec.gc.ca

Getting Tough on Crime
Canada's New Government has introduced eleven Bills that will make our streets and communities safer by banning house arrest for violent criminals; bringing in mandatory minimum sentences for gun crimes; cracking down on street racing and raising the age of protection from 14 to 16 years of age.

The most recent piece of legislation is one that will provide tougher sentences and more effective management of individuals convicted of sexual or violent offences in Canada. When this legislation is approved by Parliament, the new law will make it easier for Crown Prosecutors to obtain a Dangerous Offender designation against individuals convicted for a third violent or sexual offence; create stricter Peace Bond provisions for high risk offenders by extending the maximum duration of Peace Bonds (which can restrict contact with other persons, firearm possession etc.) from 12 to 24 months; and put tighter restrictions on the behaviour of high risk offenders once they are finally released.

I am proud to be part of a government committed to making our streets safer; to making our communities secure; and to ensuring our families and children will be protected from repeat, sexual and violent offenders. Canada's New Government is getting things done to protect the Canadian way of life.

Gordon O'Connor, PC, MP
Carleton-Mississippi Mills

0